Before you start selling your genetics, you will need to understand that it may take some effort getting sales especially if you are new to selling cannabis seeds/clones. Vendors who have been around for years will be recognized by many growers and therefore receive more sales. Whereas someone who is just starting off for example might have a tougher time selling cannabis seeds in general until they become a bit more known. Seed Canary offers those of you who are new to selling seeds/clones an opportunity to become recognized and receive sales, however it may take effort before you start seeing results.
Perfect Your Product Listing
When adding your strains to seed canary, it is best to take full advantage of the tools we offer you. When a customer is shopping for seeds through our website, they will be looking at each product available on Seed Canary. Which is why making your product listing as perfect as possible is crucial if you want to make sales. Make sure you include the following information when adding your product(s):
Quality photos of the strain

– Photos of the plant itself OR photos of the seeds in original packaging.

Add quality information about the strain

.

Add a good description for the strain you are selling

– How it grows, effect, aroma, etc.

Make sure your price is right

– Nobody wants to pay extra for seeds they can get elsewhere.

Be professional!

– make sure your spelling is correct and that the information you include is accurate
Perfect Your Vendor Profile
Your profile is almost if not just as important as your product listing. Before a customer purchases your genetics, they will likely check out your profile to make sure you are legit. Keep in mind that there are millions of breeders out there and not everyone will know who you are or how reputable you may be. Following these key points will increase your odds of having successful sales.
Upload your logo to your profile – ensure that your logo is high quality.
Upload a banner – Choose a banner that makes your page stand out
Add your social media – Facebook, twitter, Instagram, etc.
Add an about us section to your profile – This helps growers know more about you!
Store policies – Make sure that you have a shipping & return policies available. this helps customers know more about the process of ordering from you.
Take Advantage of Your Vendor URL
Every vendor on Seed Canary will have a URL automatically generated based off the username they enter. For example, your vendor URL will look like the following:
https://www.seedcanary.com/vendor/example-name
YOU CAN SHARE YOUR VENDOR URL WITH OTHERS OR ADD IT ON SOCIAL MEDIA PAGES
This will allow people you meet outside of Seed Canary to know where they can buy seeds/clones from you. Not only that, but having Seed Canary as a reference also increases your reputation as a vendor online!
Respond quickly to Customer inquiries
When a customer has a question about a product you are selling, they will reach out by pressing the "Contact Vendor" button to submit an inquiry. Its important to remember that if you don't respond within 24-48 hours that they will most likely order from someone else. Please check your email regularly to look for emails from Seed Canary.
We will always notify you by email if you receive an inquiry or order.
Ask for reviews!
After every order is completed, the customer will receive an email asking to leave a review. However, if you are new to seed canary it might be difficult to get reviews right away. If you have sold outside of seed canary in the past, you can ask your returning customers to leave a review on your page. Having reviews on seed canary will definitely help you receive more sales!
Ship Orders on time
When you receive an order from a customer, we recommend that you ship that order out within 1-3 days after the order was placed. This is a "standard" when ordering anything online, as you shouldn't have to wait more than 3 days to hear that your order was shipped (If Possible). We understand that life events happen and might require shipping out an order a bit later than expected. But we ask that if you are unable to ship out an order within 3 days to please contact us (Seed Canary) or the customer directly to inform them of the delay. Customers who feel the need to check on their order are unlikely to purchase from that specific vendor again.
Choose A Plan that's right for you!
As of 2-15-22 we have 3 vendor plans available to choose from. The free plan offers a lot but might not give you the full reach you would like. Upgrading your membership to Gold or Platinum will give you additional features and increase traffic to your page/products.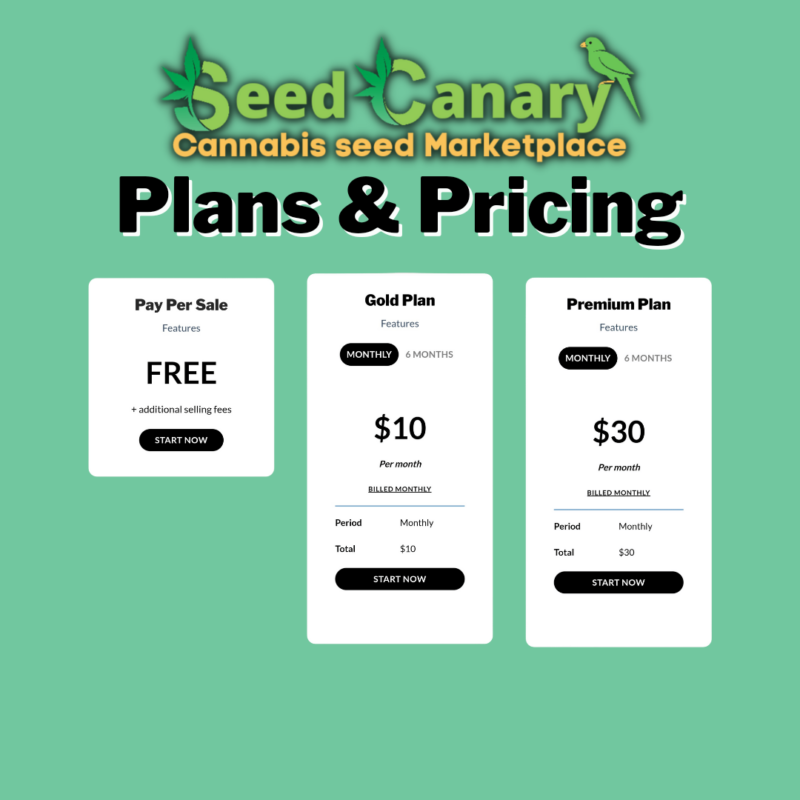 Not A Vendor? Sign up today